WordPress plugins cover pretty much any category, including maps. These plugins help users add maps to a site, and plot locations and routes. The following plugin will help users add a map to a site easily and effectively.
The functionality of the following plugins ranges from embedding a map for users to find a specific business, to allowing users to follow routes or trails. Most maps can be customized with colors, tags or by individual locations. These WordPress plugins are both free and premium, so there are many options for a user to choose which is best for a site.
1) Locations Manager Plugin
It's easy to create maps with multiple locations with the Map Locations WordPress Plugin.
With this locations plugin, you add multiple locations, each with a unique icon and page with screenshots, notes.
Locations are also organized into categories, meaning you can display maps of only certain categories. Overall, a really great plugin for showing locations on a Google Map.
A live demo site is available at KnowledgeTrail.com
2) Map Routes Manager Plugin
The Map Routes Manager plugin is unique because it allows a user to generate a catalog of map routes and has great mobile responsiveness.
The plugin provides images for specific locations, elevation levels, temperature and descriptions. You can display descriptions with each location as well.
This plugin is a great choice for outdoorsy people like runners, hikers, cyclists and business professionals looking for locations in a big city. For a demo site showing how this plugins work, also check KnowledgeTrail.com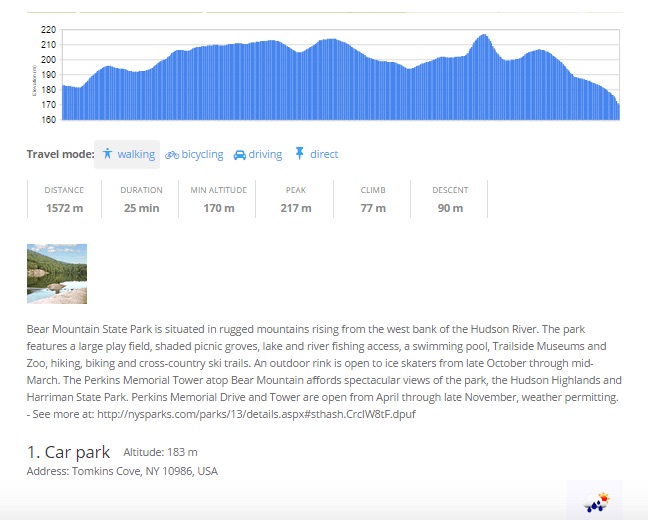 3) WP Google Maps
WP Google Maps is one of the most popular map plugins available. The free version includes detailed maps while the pro version allows users to animate map markers and input GPS. This plugin prides itself on being user friendly and easy to install.
4) PrettyRoutes
PrettyRoutes provides users with unlimited route mapping and very easy setup. This is a highly customizable plugin, with customized graphics for pinpointed locations and different colors for different routes. Distances are automatically calculated when inputted into the plugin.
5) LogMyTrip
This free plugin is great because it allows users to see images from each location on a map. Click on a location anywhere on the route to see actual images of the location. This plugin is great option for anyone traveling or planning a trip abroad.
6) Nomad World Map
Nomad World Map is a collaborative plugin which allows users to create a customized travel map. A great choice for bloggers, this plugin is easily shared and adds points of interest along the routes. Create a description as a blog post and keep others updated on different routes or travels.
7) Responsive Styled Google Maps
Responsive Styled Google Maps is a highly rated premium WordPress plugin that is very mobile ready. This plugin does not require an API key for use, and users can create their own location markers. This plugin creates maps based on latitude and longitude coordinates.
8) Maps Marker Pro
Maps Marker Pro is one of the most diverse and visually stunning WordPress plugins on the market. Choose a satellite, terrain, or painting view of a map with a variety of unique location markers. This premium plugin is very mobile responsive, and can create mini maps an location clustering.
9) Map Press
Map Press provides almost unlimited options for location icons and supports images of specific locations for users to view. Map Press also allows users to combine several maps together instead of just creating separate maps for different locations. The plugin is both free and premium, with a variety of options for users to choose from for business success.
10) 5sec Google Maps WP Plugin
The 5sec Google Maps WP Plugin aims to be a fast and effective map plugin. Just define the address or location parameter and create a map. Create maps in satellite view, and set pixel options for better zoom capabilities.
Suggested Links: